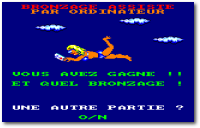 BRONZAGE ASSISTÉ PAR ORDINATEUR (Computer Assisted Tanning)
This game is a seasonal joke rather than a real video game since it was released Micro Mag magazine, August 1989.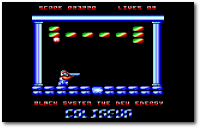 COLISEUM
The only breakout from Luc and Hervé Guillaume is quite entertaining even if it is only composed of a ten levels. The game area is small but it is far from the number of bricks to destroy in the ARKANOID levels. Only negative point, an adjustment period is necessary to get used to the location of the "racket". Held at arm's length by the protagonist of the game, changing direction is unsettling.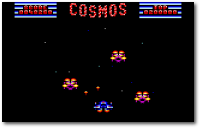 COSMOS
Their first shoot'em up. Austere and lacking in variety with its game screen without background, it does not attract the attention despite its vertical scrolling. BLACK SYSTEM will prefer horizontal shooters, except
MEGAWAR
.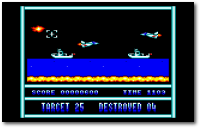 D.C.A. (AA)
This game consists in moving a viewfinder on the screen to snipe boats and planes. The response time and the number of hits needed to destroy each enemy involve training and speed!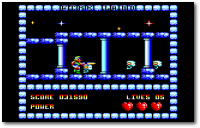 FIRELAND
You are commissioned to go beat up a wizard too evil to suit the Kingdom monarchs. This run'n gun remembers those of the Spanish publisher Dinamic. You must avoid obstacles and defeat lots of monsters. Difficult but not insurmountable. Although the wizard at the end of the game will give you a lot of trouble.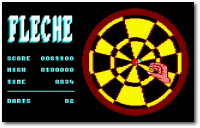 FLÈCHE (DARTS)
39 darts to throw to score to the maximum. There are the traditional rules of the game in which you have to succeed in placing shots closer to the centre, but not only if you want to blow up the score. You must aim for smaller boxes too, ideally touching the centre of the target. To bring a little spice to a game that would otherwise be too simple on computer, the hand holding the dart represented on the screen shakes, forcing you to anticipate your shots. It's a very little but funny game.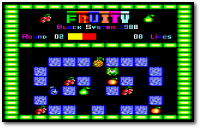 FRUITY
Ten mazes await you where you need to collect all the fruits in a limited time to move to the next level. Of course, enemies lurk and the slightest touch causes death. Fun even if the random movements of monsters are sometimes frustrating, making you lose precious seconds helplessly.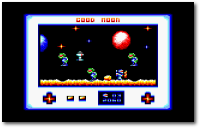 GOOD MOON
Here we approach the simplicity but also the effectiveness of electronic games of the early 80s with Game & Watch Nintendo are the most famous representatives. You pick up on the first screen a crystal that you have to forward to your ship, forcing you to go through three screens where you will find monsters and obstacles. Once deposited the crystal, you must return to the first screen to pick up another one. Repetitive but surprisingly addictive.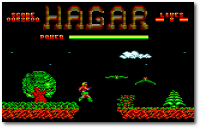 HAGAR
Armed with your axe, you must go through many screens and slay an evil dragon. All of this starts from a good idea. Unfortunately, the endless stream of enemies that appear on each screen makes this game a tedious voyage and it is not uncommon to lose a life approaching the edge of the screen, because you could not destroy a monster that has just arisen. This principle is reflected in the classic EXOLON except that Raphael Cecco, the developer, had understood that it was important to set an invisible limit on the screen of which no more monsters appear to avoid this inconvenience.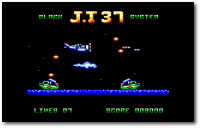 J.T 37
Inside you American fighter you must overcome a Japanese armada protected by its fighter fleet. The game ends with the battle against a battleship heavily armed. Again quite short, this traditional shoot'em up is effective and enjoyable to play. The theme is reminiscent of the excellent P47 THUNDERBOLT from Firebird, proportion wise. Some bonuses improve your weapons, others must be avoided. It is a good point but the need to destroy the capsules instead of picking them is disconcerting.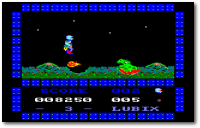 LUBIX
You have to survive twenty screens avoiding monsters and obstacles. Created in 1988, LUBIX is one of the first titles from BLACK SYSTEM, which explains its limited gameplay and its little detailed graphics. An archaeological piece of software.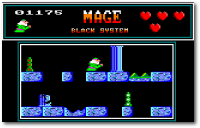 MAGE (Magus)
The gameplay is once again limited and it is difficult to understand why the magus cannot borrow stairways and must use teleporters. But the level design is, however, more substantial than the one in LUBIX, the player have to choose his path to be at the right level to avoid monsters and obstacles. In the end, the whole is rather convincing for a game coded using BASIC language.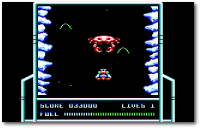 MEGAWAR
This is perhaps the most ambitious shoot'em up from BLACK SYSTEM. Five levels with varied backgrounds sanctioned by the confrontation with a boss always different, we feel that the duo sought to do their best for their only production that have been commercially published, even if it was by an obscure company. However, the difficulty is Herculean with very strange weapons as this one that pulls a laser from the sides of the vessel, but only one side at a time far too slowly to be effective. Incidentally, the calligraphy of the title and the style of background and monsters clearly remember
XENON 2
from the Bitmap Brothers ...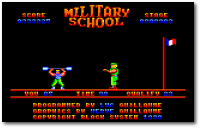 MILITARY SCHOOL
Remembering
COMBAT SCHOOL
from Ocean, this game offers you to practice three different tests: pumps, shooting and weights. Enjoyable for a few minutes, it is one of those games that tortured until failure poor joysticks. It loses interest quickly. A curiosity for a kind of game long since disappeared.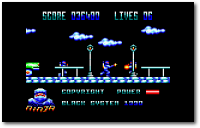 NINJA
Another classic run'n gun in which you lead a character to the final battle against two successive bosses, one half way and the other at the end of the single level. The enemies invade the playing area, forcing you to move forward step by step launching tons of shurikens. Once again we plague against energy lost with enemies arising when we arrived in screen edge but we manage to progress with a little bit of perseverance.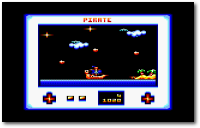 PIRATE
Clone of
GOOD MOON
, this time you have to collect gold from a galleon you have to board up and drive it to your secret island. Nothing new but it still works with new obstacles in the buccaneer world!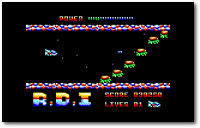 R.D.I
Or "Real Destruction of Iris". It is another very standard shoot'em up offering nice backgrounds and tons of merciless enemies to destroy.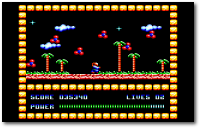 SAMURAI
Hey, you will take one more of these little run'n guns sweet tasting, a little stodgy but totally irresistible? Once again tons of enemies to destroy ruthlessly hoping that the nine lives will be enough to survive the carnage and the inevitable and frustrating contacts at screen edge.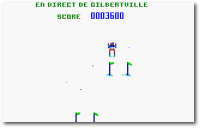 SCHUSS
A white screen, a skier speeding down a slope, more than a hundred of studs to cross and bonuses to collect to inflate the score. It does not take long to challenge your reflexes. Be certain that your first part will be followed by several others in a spirit of fair competition. As often, it is the simplicity that pays.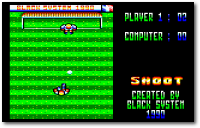 SHOOT
Taking advantage of the popularity of the fourteenth World Cup Soccer taking place in Italy of 1990, BLACK SYSTEM offers in Amstar & CPC's words the first "penalties simulator." But we quickly get tired to only give a shooting direction and hope the goal will take the other one.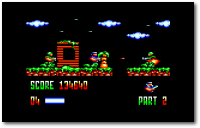 SKYWAR
Probably the most successful game from BLACK SYSTEM that signs here a production with a largest lifetime with its two parts, the second being locked with a password given to the player at the end of the first one. We feel here all the admiration of Luc and hervé for games from Dinamic. It is the same recipe from the one of the Spanish studio with a first part consisting in a horizontal taking place in the air controlling a helicopter. The second part puts you in the shoes of a heavily armed soldier that must cross a jungle facing legions of terrorist fighters and defeat the final boss to free a hostage. Unfortunately, the bad gameplay is a shame as the level design requires in the contrary impeccable responsiveness. This defect prevents the game to reach the level of the excellence of the Iberian editor. The action is involved if you do have patience and perseverance. Fortunately SKYWAR was not commercially released as planned initially, its free distribution leading to indulgence.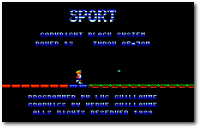 SPORT
remembering sports games like
SUMMER GAMES
or
WORLD GAMES
, SPORT offers quite logically ask to compete in Olympic trials that you chain one after the other. Unfortunately, it is quite poor. We feel that the will was not enough to design a game in an unmastered style.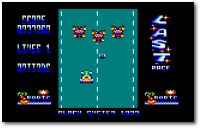 THE LAST RACE
You take control of a racing car on a straight line and you will have to avoid mines and enemies. With its beautiful Sci-Fi style graphics and catchy idea of mass destruction promise, THE LAST RACE could compete with the best if it was not necessary to survive to only three different kinds of attack. The presence of bonuses restores a little bit of interest in a title that is still fun to play.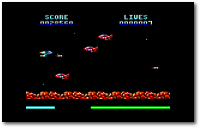 TWINS
Here at last is a shoot'em up from BLACK SYSTEM based on an original idea. The enemy gauge progress every second on your own energy gauge, reducing the capacity of your shield. Each time you touch an alien ship, it pushes back a notch the enemy gauge, which does not give you back the energy lost. It is therefore vital to succeed hitting continuously to slow the advance of the enemy gauge. Thus, you cannot survive zigzagging between opposing ships. We must destroy them as much as possible! The idea has its limitations, but it is nice anyway to control the TWINS ship.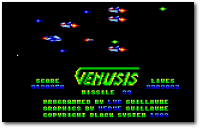 VENUSIS
There is not much to say about this very standard shooter and you really have to be motivated to give it attention. However, apart from its lack of originality, it remains an average production from BLACK SYSTEM.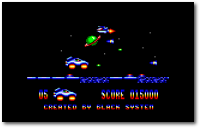 ZONE
A few months before starting the development of
SKYWAR
, BLACK SYSTEM makes a first test creating a game composed of two independent parts. ZONE puts you at first in command of a jeep and you have to avoid obstacles while destroying the enemy threat. In the second part, you control a warrior and you must cross a small number of screens, each forcing him to face a particularly tough monster, certainly for artificially inflate the lifetime of the game. Anyway, it is tough to control but interesting enough to enjoy it.